Residential
Home /
Residential
Would you like to power your home using the sun's free power? It may be easier and cheaper than you think to install solar panels! Solar Mission Australia are the grid connect professionals, with thousands of residential installations successfully completed! So if you are interested in solar power systems for homes, then read on.
HOW SOLAR POWER WORKS?
The sun shines on the solar panels generating DC electricity.
The DC electricity is fed into a solar inverter that converts it to 240V 50Hz AC electricity.
The 240V AC electricity is used to power appliances in your home.
Surplus electricity is fed back into the main grid.
Whenever the sun shines (and even in overcast weather), the solar cells generate electricity. The grid connect inverter converts the DC electricity produced by the solar Rinto 240V AC electricity, which can then be used by the property/household.
If a grid connect system is producing more power than is being consumed, the surplus is fed into the mains power grid. Some electricity companies will meter the electricity fed into the grid by your system and provide a credit on your bill. How much you are paid is determined by the feed-in tariff.
When the solar cells are not producing power, for example at night, your power is supplied by the mains power grid as usual. The energy retailer charges the usual rate for the power used.
As all of the components in a grid connect system have no moving parts, you can expect a long and hassle free life from your solar power system! Generous government solar rebates and incentives mean you can also save thousands on a grid connect system for a limited time!
Australia's Best Solar Packages – 5kw through to 13.3 kw Systems starting from $3490… LG, Sun Power, Canadian Solar, and Jinko.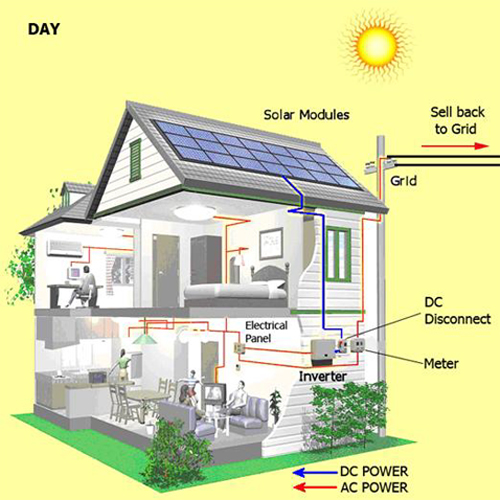 How solar works during the daytime
INSTALLING A GRID CONNECT SOLAR SYSTEM
Most customers choose a roof mounted solar power system. For most of Australia, the modules should be installed facing north in order to take full advantage of the sun; however, a west facing installation may also be desirable.
Our accredited grid connect installers will aim to install the modules at an angle which ensures that the glass face of the modules is positioned at 90 degrees to the sun for most of the day.
As an example, in Sydney this angle would be approximately 30-40 degrees to the horizontal. Standard Australian roofs usually have an angle of elevation of ~22 degrees, which is acceptable. This provides a close approximation to the position in which a solar array produces its maximum output. For installations on flat roofs an elevated array frame allows the solar modules to be installed at an angle of elevation of approximately 30 degrees from the horizontal.
What's the right size solar power system? How much will it cost?
As everyone's needs are different and the generation potential of solar power differs from place to place, a quick way to get an answer to both these questions is to use our free solar quote system to determine the cost and estimated benefit of an installation.
TIER 1 PANELS
Solar Mission Australia uses the best and most trusted Tier 1 Solar Manufacturers – which make up only 2-3% of the industry.All Tier 1 Solar Manufacturers come with  25 years performance warranty, so you know you're making a real investment with a company who will be there every step of the way.The Solar Mission Australia's systems are covered by an industry leading warranty.
PERSONAL COMMUNICATION
Solar Mission Australia team has a strong and customer-focused foundation. Our professionally trained service team offer competitive and cost-effective packages, combined with one-of-a-kind product and service offerings, make us the premier energy partner for meeting your residential solar power needs.
5 Years Warranty on Installation and Workmanship
We are so confident in the components supplied and the professionals installing them that we offer a Lifetime Warranty on the workmanship. Live with peace of mind that the installation is protected for a lifetime. 
PLATINUM AC BATTERY READY INVERTER
All inverters are AC battery ready and if you invest in a hybrid inverter then it will be DC battery ready as well.Prepare for the future of solar with our battery compatible inverters. All systems come battery ready so you are not left behind when solar storage options become more affordable.we tailor build our solar systems based on customers needs and with a balance between price performance and reliability. 
After sales support Guarantee
We will take all your after sales enquiries and issues very seriously as we want a long term relationship with our customer based on mutual trust.
Key Benefits
30-80% savings on electricity bills, 2-5 years payback, 25 years performance warranty on panels, LCOE under 10 Cents per kWh (Produced your electricity under 10 cents per kWh as opposed to paying higher costs to electricity companies), Invest in Green renewable energy with no carbon foot print, Cash flow positive in most cases if you take finance (Pay for the system out of your savings on electricity bills).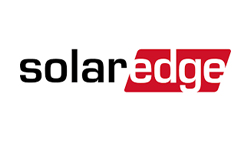 About us
Solar Mission Australia uses the best and most trusted Tier 1 Solar Manufacturers – which make up only 2-3% of the industry.
ADDRESS
2/67 Scott St, Liverpool, NSW 2170, Australia